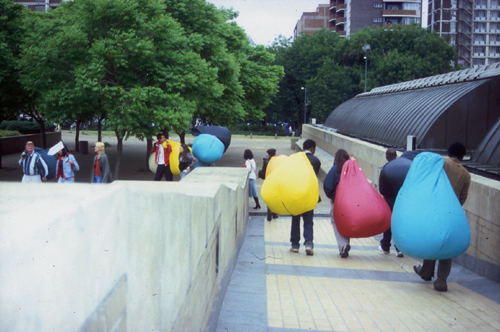 Extraphonic, an interactive link between Joubert Park, Johannesburg
1-2pm
Saturdays and Sundays
Joubert park
Umeå Public Bath
Extraphonic is initiated by Elin Wikstrom and Cecilia Parsberg, Sweden and is part of the Joubert Park Public Art Project 13th October to end of December 2001.
Extraphonic is a series of ongoing exchanges between two networks, one in South Africa and one in Sweden. At the same date and time, 12 persons from different locations and life situations, talk to each other on the phone. In Johannesburg the event takes place in Joubert Park, in Umea it's winter so people meet at the Public Bath.
Extraphonic sets up an active link between the park, the public bath and local radio. Parts of the conversations will be broadcasted regularly. Bengt Strom, Vasterbotten Radio, Sweden will make weekly reports. It's possible for people who listen to the local radio stations to call in to the Extraphonic events.
From mid-October to end of December the networks will expand. At the end 200 persons have been involved. The method is to invite 6 people in Johannesburg and 6 in Umea, they visit Extraphonic togheter with a friend. Each participator will either put a question to a person in the other network or answer one. At the next event it is instead the friend who is the one speaking on the phone and inviting a new person to the network. Since all participators (except at the first event) have attended one event before, they have had time to think about what they want to ask. But it can also happen that the first question will trigger a subject that everybody wants to know more about. Both in the park and at the indoor swimmingpool, the telephones are connected to loudspeakers so that visitors will be able to hear the conversations. It is about listening and speaking to each other, not just in the small group that one belongs to but to people one usually doesn't socialize with.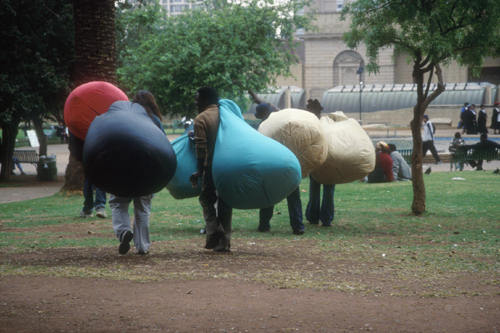 Extraphonic 1 October 20 Extraphonic 2 October 21
Extraphonic 3 October 27 Extraphonic 4 October 28
Extraphonic 5 November 3 Extraphonic 6 November 4
Extraphonic 7 November 10 Extraphonic 8 November 11
Extraphonic 9 November 17 Extraphonic 10 November 18
Extraphonic 11 November 24 Extraphonic 12 November 25
Extraphonic 13 December 1 Extraphonic 14 December 2
Extraphonic 15 December 8 Extraphonic 16 December 9
Welcome!
Cecilia Parsberg and Elin Wikstrom, oct. 2001
Ceciliaparsberg@yahoo.com +46 (0)70 3966661 (telephone no. in RSA)
Elinhoo@yahoo.com 072-2200559 +46 (0)70 6714858