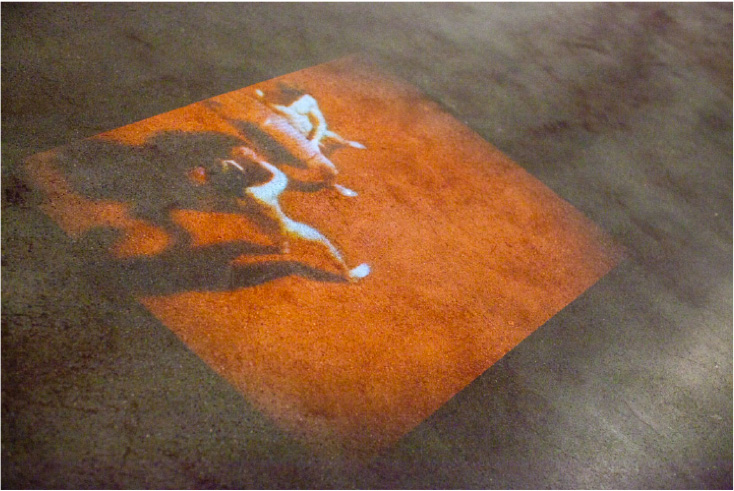 Don't be stupid, 1997.
Screenings: Stockholm Art Fair. SVT "Elbyl" Ch 1 / Art & Video in Europé Heure Exquise! Stockholm Art Fair. Swedish Television Ch1 / Osnabruck Videofestival. at Botkyrka Konsthall. Don ́t be stupid in the videocompilation "Take two" (same tour as FRESH) at: the ICA, London / Videopositive-95, Liverpool / Chapter Arts Centre, Cardiff / Ikon Gallery Birmingham / Tate Gallery London / Ferens Art Gallery Hull / Open Hand Studios Reading / National Film Theatre in London / Ruskin SFA Oxford. "The king is not the queen" (1998) curated by: Francesco Bonami at Nordiska Museet one exhibition of "Archipelago" Stockholm Capital of Culture.

Don't be stupid, as projection on the floor Sept-Nov 2011, Magasin 3, Stockholms Konsthall.
The installation in the group exhibition Generation at Borås Konstmuseum 2020-21
"Cecilia Parsbergs blodröda boxningsmatch där en naken kvinna i ursinnigt raseri attackerar en lika naken man som fruktlöst försöker skydda sig bakom en hoprullad madrass är sanslöst komisk som en Helan och Halvan-film. Men samtidigt framkallar den isande associationer till Metoo-uppropet och allt som hände i samband med det." (Sara Arvidsson, GöteborgsPosten 1/4,2021)
Cecilia Parsberg on the installation:
Makt och maktlöshet – handling är igångsättande av kraft. Relationer består av både monolog och dialog. Relationen mellan en kvinna och en man får spegla en politik som kan ta plats både på privat och offentlig nivå.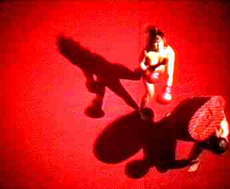 Power and powerlessness – action is force. Relationships include both monologue and dialogue. The relationship between a woman and a man mirrors a political situation that can take place both in a private and a public level.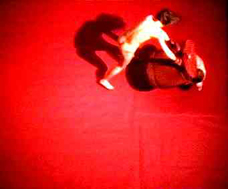 The man in the performance says: Woman kicks man's ass. To me it would seem more natural with the roles turned around, a man punching a woman. Then I would sympathize with the woman.
I would probably see the video as an image of women's relation to men in general. I can easily sympathize with the woman when she's the one wearing the boxing gloves. With the woman fighting it's so obvious to me, as a man, how lonesome her struggle is. She doesn't let the man in. This is not the picture of a relationship, rather it reflects the fight of a single individual.
I've always believed that the relationship between man and woman in our society was the concern of both. Why does it seem so clear to me in this case, that it's all about one individual woman struggling with herself. Is this the kind of one-sided struggle that patriarchy is built to hold and maintain?
The woman spends all her energy on her fight. What happens to the man – nothing?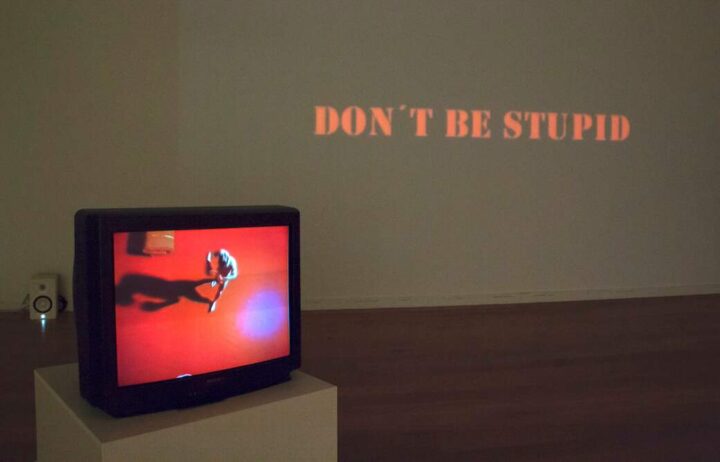 There is no room left for him. And in our society-where is the deliverance of women made passive by someone else's fight. Men struggling, leaving no room for women. What happens to women-nothing? Should you implode or explode?
It's a man's world, in which both men and women live. But society is no relationship – it's a one-sided struggle for survival and self-development – man against nature – men against women!