My work is contextually situated, relational, performative, politically informed, and articulate an artistic view on challenges that are also existential, political and aesthetic.
The dissertation How Do You Become a Successful Beggar in Sweden? An inquiry into the images of begging and giving 2011 to 2016 is available in Swedish and English in a layouted digital presentation at www.beggingandgiving.se. It is a doctoral thesis consisting of nine text chapters and six works of art.
***
A Place in Europe, a film sculpture for public sites. The House will be in Norrköping 21/9 – 28/10, Bredgatan 33-34, REMESO, Norrköpings universitet. Inauguration 19:00, 25/9 with Professor Stefan Jonsson. (for updates check: https://aplaceineurope.com)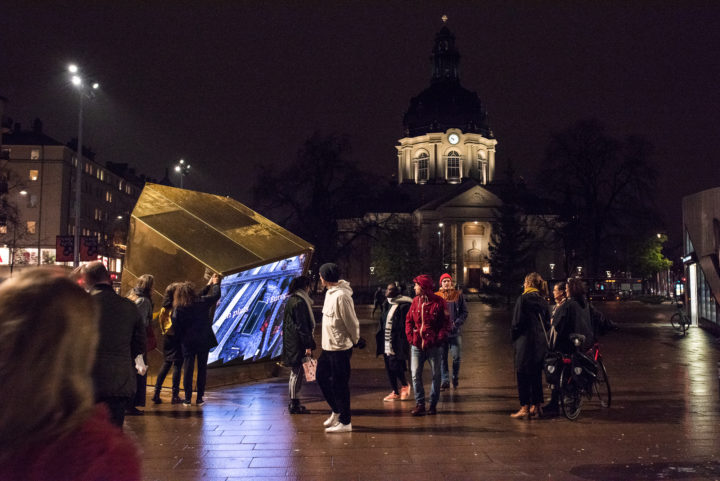 The Chorus of Begging and The Chorus of Giving a chorus dialogue, for public sites, street screenings and art sites. Below two pictures from Strömparterren, Stockholm, August 2019.
"Cecilia Parsberg's artistic practice have often brought her towards the hazardous and complex but important and necessary political undertaking in speaking about the other, the marginalized or underprivileged of society (engaging both sexual, social and political displacement and suppression in her work), or the underdogs in political conflict; generating challenging works of art, blending documentation and activism, where often the artist herself is present as witness, investigator, mediator, supporter." (2006 Jan-Erik Lundström, BildMuseet, Umeå)

Until Death Do Us Part, Johannesburg, 2000.
See the full length version of BORDER (2:10 mins) 
This site is an archive of documented art works: "before 2000" and "after 2000". New works have a project site.