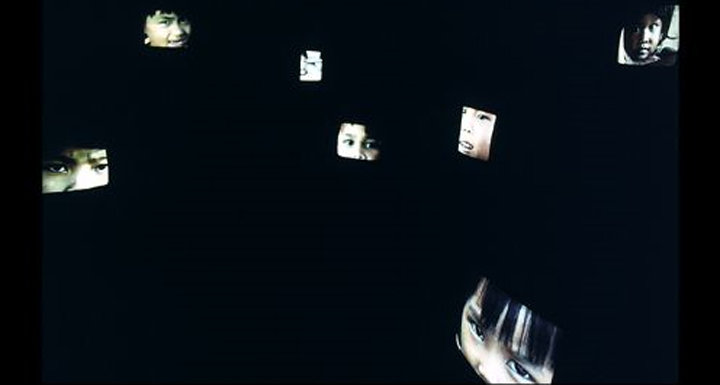 Vietnam, hello bye bye ok, a video installation by Cecilia Parsberg and Erik Pauser 1995.
Shown at Galleri Index, Stockholm, Gallery OTSO Helsinki, Sveaborg / Suomenlinna Helsinki and in "Anight at the show" Zurich, curator Harm Lux. (10 DigitalBETA-Masters per edition.)
A room: floor, walls and ceiling is black. 10 Monitors, 10 video players. Sound. All the 10 videos are edited at two paces which change every three minutes.
One after another the monitors lights up and goes out with a "Hello", showing a Vietnamese child looking directly into the camera.
Second pace: All the monitors shows faces of Vietnamese children looking. 40 different faces are edited in a fast tempo. The rhyme "hello by bye OK, hello bye bye OK, hello bye bye OK…." is repeated continuously.
The monitors were placed high and low, at a distance and close. At the first pace it is possible to look back at one child at a time. Then it changes, the children are surrounding the viewer in a continous flow in all the monitors. The childrens urge of wanting contact becomes a threat of limitless space.
The filming was made during 2 months in Vietnam 1993.