(Temporär webbpresentation, projektet ska få en egen URL 2018). Projektet drivs av den ideella organisationen Elefanten i Samhället. Initiativtagare och kontaktpersoner är Cecilia Parsberg och Erik Pauser. Huset är utvecklat i samarbete med arkitekterna David Martinez Escobar och Haval Murad från Detail Group. Research för filmen gjordes i samverkan med dansaren Anna Westberg. Projektet kommer att involvera ytterligare kompetenser, bland Ingegerd Green vars huvudsakliga kompetens område är design och ledning av kunskapsutveckling och utvecklingsprogram med koppling till regional utveckling och system för kompetensförsörjning. Projektet har forskningsstatus — det har genomgått internationell peer-review av 4 professorer på 4 olika universitet i världen genom det internationella forskningsprojektet Project Anywhere (mer info). Projektet fick högsta poäng för nyskapande metodik i Kulturbryggans startstöd 2016.
Projektnamnet "En Plats i Europa" är ett paraply-namn för: en mobil filmskulptur med titeln "Huset", en rad seminarier/arrangerade samtal, ett program för skolor i Sverige och i förlängningen i andra EU-länder.
På ett nyskapande och överraskande sätt vill vi delta i diskussionen kring migration och mänskliga rättigheter. Vi vill inkludera och synliggöra en plats och en livssituation som många migranter har – och som vi menar blir allt vanligare i Europa, men som ofta är dold för allmänheten.
Huset på Medborgarplatsen i Stockholm, 3D skiss av Detail Group.
En mobil filmskulptur har formen av ett Hus som dyker ner i marken i en brant vinkel. Huset kommer att visas på trettiotalet offentliga platser i Sverige och Europa. Huset transporteras med lastbil och installeras som ett tillägg i stadsmiljön under ett dygn. I samband med detta arrangeras lokalt olika typer av offentliga samtal, workshops och temadagar på skolor. Husets undersida är en 2,5 m bred LED-skärm där en film visas.(Skärmen fungerar bra i dagsljus. Inbyggt i Huset finns en ljudanläggning). Filmen visas dessutom som del av kortfilmsprogrammet RÖST — ett samarbete där Folkets Bio, Svenska Filminstitutet och Sveriges Television inför höstens val uppmanat etablerade regissörer och nya filmskapare att göra kortfilm för att inspirera till politiskt engagemang och få fler att rösta.
Filmens synopsis: På en undanskymd plats i centrala Stockholm råder ett slags undantagstillstånd. Här bor människor som faller mellan stolarna i EU-systemet. Tomas har under tre år sovit under en lastbrygga tillsammans med råttor. Nu ska han vräkas. Han håller ett försvarstal om mänskliga rättigheter.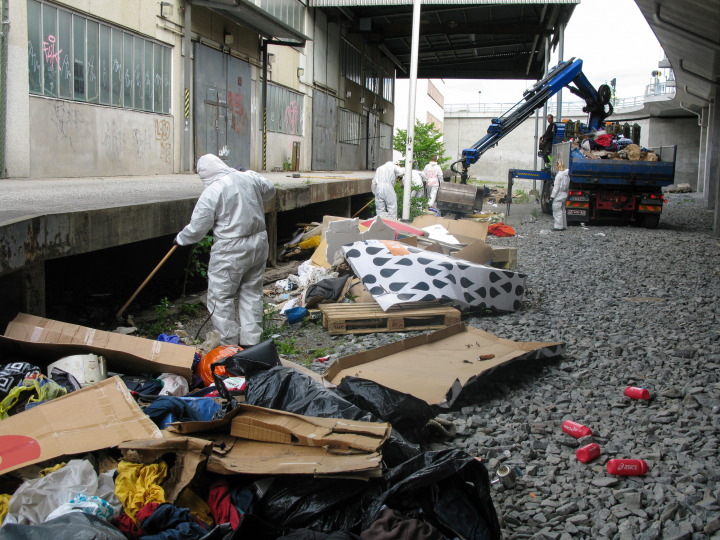 Om filmen: vi har filmat i ett område i centrala Stockholm; avgränsat av en motorväg på ena sidan, en tunnelbanelinje på den andra och ett bergsparti med skog på den tredje, nästan osynligt för förbipasserande, där ett slags undantagstillstånd verkar råda. Här bor och arbetar en grupp människor av olika nationaliteter tillfälligt. Många har hamnat mellan stolarna i EU-systemet. Det är en av de många platser i Europa som blir allt vanligare, men det är fortfarande en plats som vi sällan ser. Tomas, en propert klädd man, har bott här under en lastbrygga i 3 år. Nu ska han vräkas. Tomas är upprörd och håller ett försvarstal för sina rättigheter som människa. Efter arton års arbete på en fabrik i Italien blev han arbetslös. Utan skyddsnät står han nu på gatan och äger ingenting, det är inte människovärdigt att bo bland råttorna. Om han inte ens får bo här var ska han då ta vägen? Thomas anförande är drabbande. På ett rättframt sätt lägger han fram den komplicerade verklighet han har att röra sig i. Han vill göra rätt för sig och försörja sin familj, men det verkar omöjligt. Han är inte först och främst ett politiskt problem — han är en människa och vill leva värdigt. Han uppmanar samhället att ställa honom inför rätta så att han kan försvara sig. Thomas blir samtidigt i filmen talare för och representant för andra som försöker klara livhanken på olika sätt. Ej färdig version https://vimeo.com/245195156  Password: Platsen3.
Huset dyker ner i marken, människor faller med Huset. Liksom båtarna med migranter på Medelhavet som inte förmår bära upp människor, förmår inte heller det svenska regelsystemet eller EU:s regelsystem bära upp människor som kommer hit.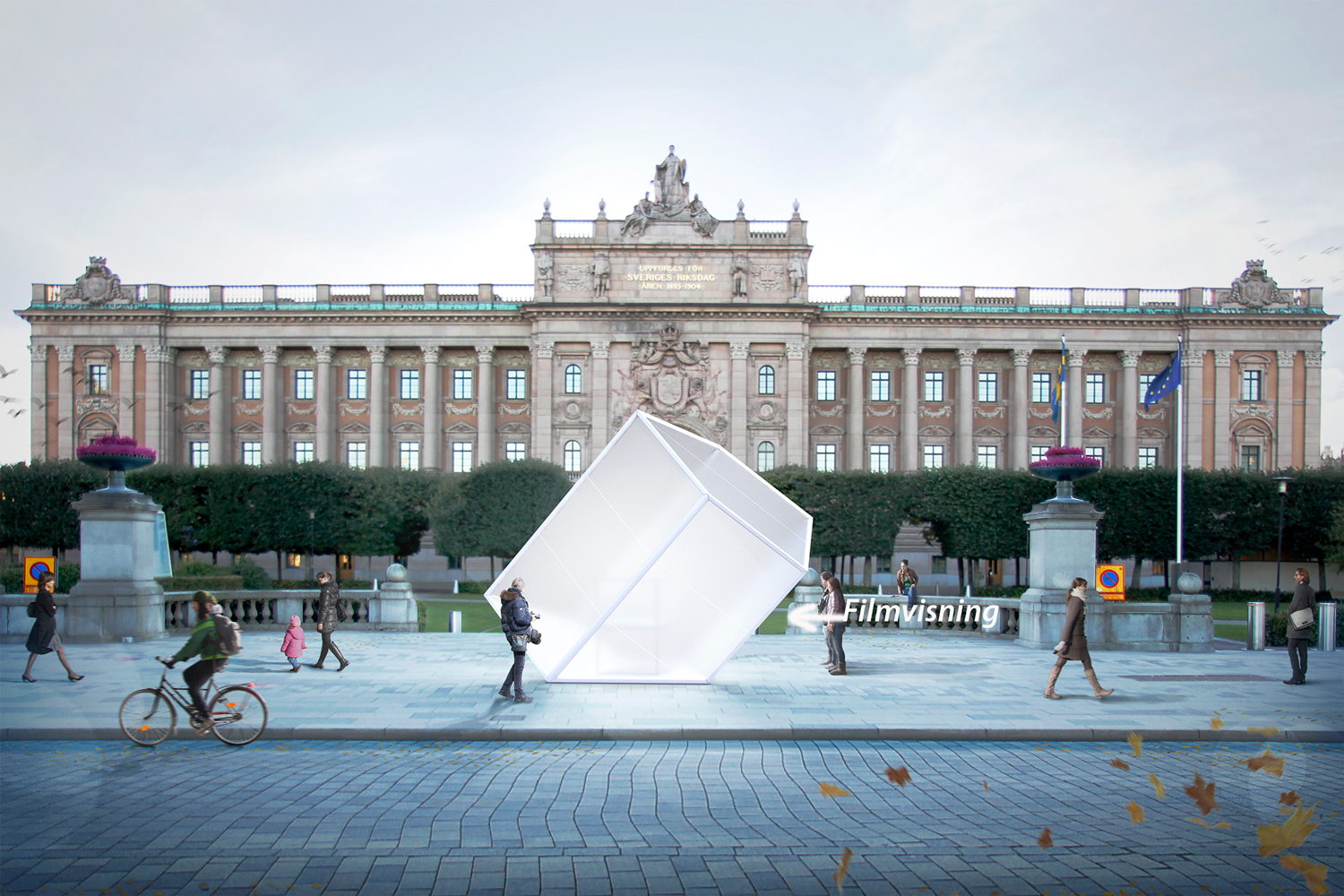 Huset framför Riksdagshuset i Stockholm, 3D skiss av Detail Group.
Drivkrafter och syfte
Vi tror att konsten kan synliggöra och öppna upp för konstruktiva samtal. Därför innefattar det övergripande projektet förutom Huset och filmen även berättelser från publiken, seminarier och andra former av öppna samtal med deltagare från olika kunskapsfält och bakgrunder, där hem, hemlöshet, migration och mänskliga rättigheter kopplas samman. En del av arrangemangen kommer vända sig speciellt till skolungdomar. Det handlar om ett komplext samhällsproblem där många faktorer spelar roll för den nya aktuella och akuta livssituationen och där flera perspektiv behövs för att förstå det som sker. Vi är övertygade om att alla har berättelser, tankar och erfarenheter kring hem och hemlöshet och på något sätt kan bidra i ett kollektivt tänkande.
Genom att sätta upp Huset på offentliga platser når vi även de som vanligtvis inte ser konst och dokumentärfilm och inte deltar i samtalet om EU eller om människors rörelser över nationsgränserna. Events med inbjudna gäster syftar till att initiera möten mellan grupper som sällan kommer till tals. En viktig målgrupp är unga människor i högstadiet eller i gymnasieålder; då Huset sätts upp på t.ex. en skolgård eller vid en fritidsgård hålls det temadag/vecka på skolan kring ämnet.
Vi är övertygade om att de erfarenheter publiken får genom projektet kan så ett frö till ett framtida engagemang på olika nivåer.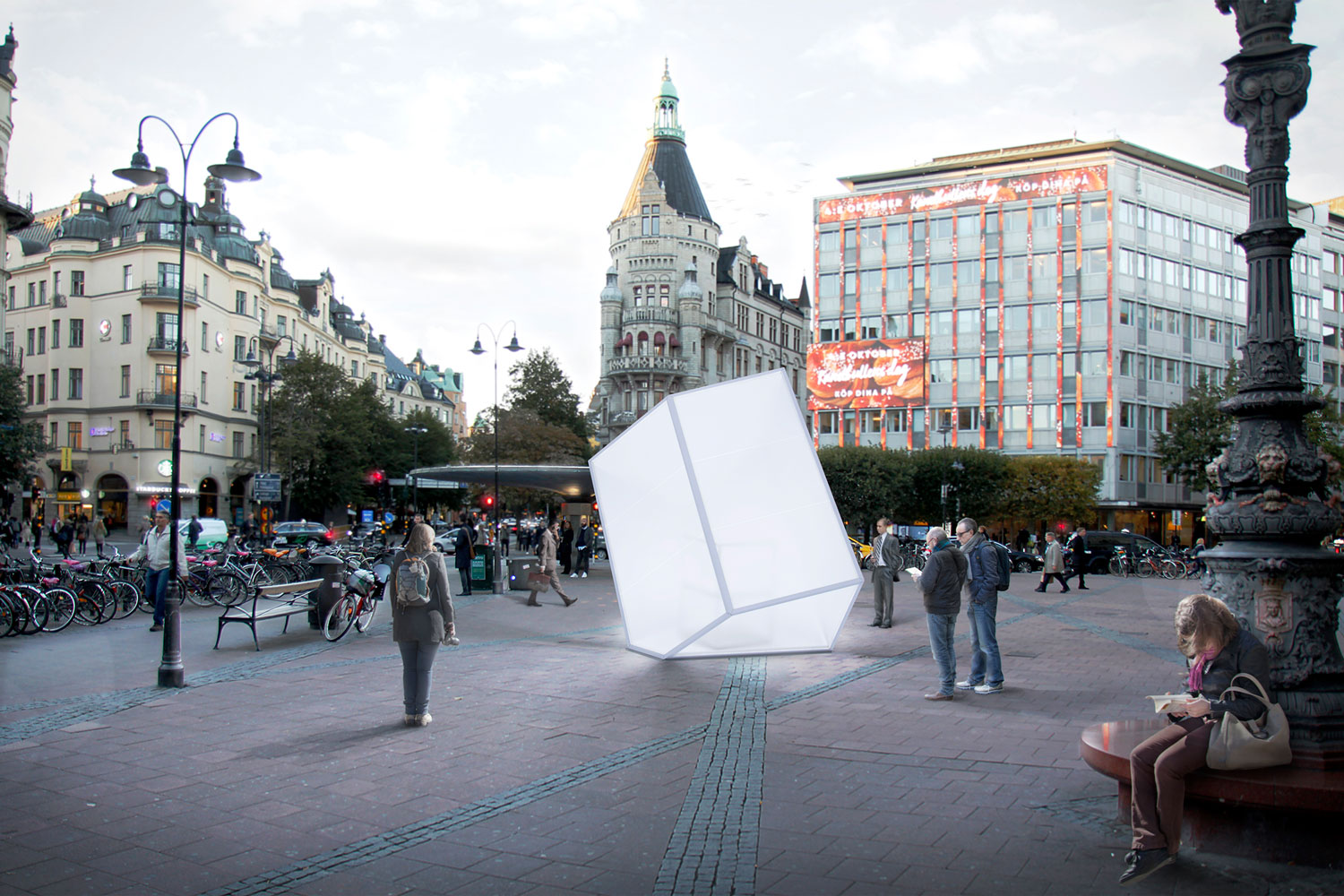 Huset på Stureplan i Stockholm, 3D skiss av Detail Group.
***
Lives that have been separated – by an imagined structure – can also be connected – by a lived structure – but not without hope of something else.